Springfield mother fighting for her daughter's quality of life at climate rally in Washington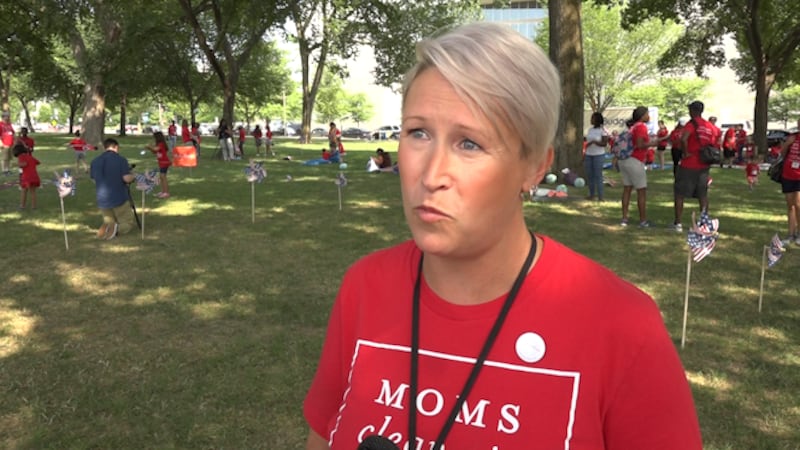 Published: Jul. 11, 2018 at 3:53 PM EDT
Mothers from around the country are in Washington calling for action on climate change. A Springfield woman says she's there because she feels her daughter's livelihood is at stake.
"I really have to pay attention to the air quality outside and whether or not she can go outside and play," said Melanie Donnell, a Springfield native.
Donnell traveled all the way to Washington to participate in a "Play-In for Climate Action." Her daughter Vivian has cystic fibrosis, a disease damaging her lungs and digestive system. Melanie says air pollution threatens her life.
"Last night, in Washington D.C., there was an air quality high risk so we weren't able to go outside," said Donnell.
She is part of Mom's Clean Air Force, the pollution-fighting organization that put on the event that included games and songs. Some elected officials spoke too.
The goal was to send a message they want federal leaders committed to fighting climate change. Donnell says the resignation of former Environmental Protection Agency Administrator Scott Pruitt is a move in the right direction. She says she is rallying in hopes that the momentum rolls on.
"They need to make sure that they get an EPA director that puts families first, that puts children's health first," said Donnell.
While the moms at this rally want the EPA to head in a completely different direction, Nick Loris, a conservative climate expert at the Heritage Foundation says that is highly unlikely.
"I think it's going to be more of the same when it comes to the policy," said Loris.
Loris says cutting funding from the EPA and giving more control to states is a more appropriate way to look after our environment. He says federal overreach and trying to regulate certain sectors, like the fossil fuel industry, is not effective.
"They would raise the price of energy and really do nothing to mitigate climate change," said Loris.
Andrew Wheeler is the acting EPA administrator. It is unknown whom President Donald Trump will select to be the next administrator.