EPA Administrator previews President Trump's trip to Georgia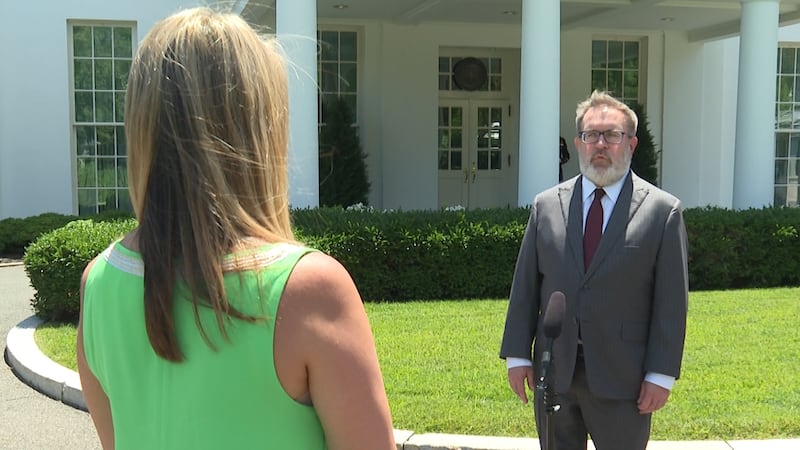 Published: Jul. 14, 2020 at 9:55 PM EDT
President Donald Trump is making his way to metro Atlanta Wednesday. The Trump administration says the visit signifies new actions to speed up infrastructure and transportation improvement projects in the Peach State – and across the country. Washington Correspondent Alana Austin reports on what this means for Georgians, and the push-back from opponents across the aisle.
The Trump administration says it is rolling out major actions to accelerate overdue construction projects.
"You spend three, four, fives years on the environmental review before you ever break ground. That's a problem," explains EPA Administrator
Andrew Wheeler.
Wheeler says President Donald Trump is cutting unnecessary federal regulations that are decades out of date. Wednesday, the President will highlight plans to alleviate congestion along I-75 by expanding lanes.
"It also really contributes to environmental pollution as well because cars idling on the highways is not good for the environment," said Wheeler.
Trump plans to visit a major UPS hub in metro Atlanta, where officials hope to reduce traffic so goods flow faster through the Peach State. Georgia Republican Congressman Buddy Carter is scheduled to be at the President's side at the announcement. He says the ripple effects from this could go far and wide.
"The enhanced mobility is going to help us to be able to get those products from the port, and to the port, and get them where they are supposed to be going quicker," said Carter.
Trump's trip comes amid the ongoing coronavirus pandemic and during an election year where polls indicate tight races in Georgia. Critics say this trip is a distraction from the real issues.
"As hospitalizations continue to climb in Georgia…it's clear we don't have this pandemic contained," said Democrat Jon Ossoff – who is running against Republican Senator David Perdue this November.
Ossoff says the GOP is off track and that comprehensive national plans are needed to tackle infrastructure. He wants to see more investment in clean energy, but more pressing, in his view, is the need for COVID-19 relief.
"People are facing eviction, skyrocketing food prices, the President needs to present a plan to solve this crisis," said Ossoff.
The President's upcoming trip will be his ninth visit to Georgia and sixth to Atlanta since taking office.
The Trump administration plans to cap federal environmental reviews to two years, which supporters say will promote economic growth far and wide.
Tomorrow morning, the President is scheduled to receive a law enforcement briefing on MS-13 criminal investigations. Then, at 1:00 p.m. ET, he's scheduled to leave the White House for Joint Base Andrews.
The White House calendar says the Commander-in-Chief is scheduled to arrive at Hartsfield-Jackson Atlanta International Airport, where he will then go to UPS Hapeville Airport Hub. Around 3 p.m., the POTUS is slated to deliver remarks headline 'Rebuilding of America's Infrastructure: Faster, Better, Stronger.'
Trump is scheduled to return in the evening to DC.
Copyright 2020 Gray DC. All rights reserved.