9/11 health care funded permanently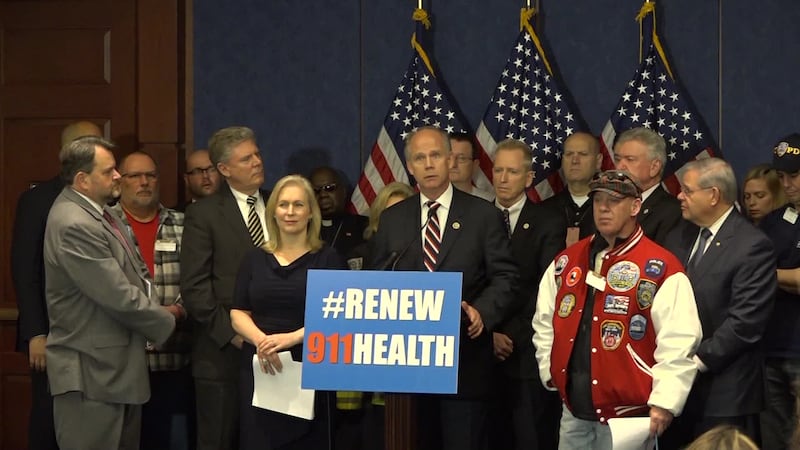 Published: Dec. 18, 2015 at 5:33 PM EST
"This is my proudest day in Washington," New York Senator Kirsten Gillibrand said.
Gillibrand spoke at the press conference. It was her final one for the Zadroga Act.
After so many press conferences fighting for the bill that she has been championing for years.
This conference was a bit different.
"It was very frustrating that congress was so slow to move. But finally they have done the right thing," Gillibrand added.
Friday morning Congress voted to pass the spending bill, giving permanent health care to first responders on 9/11.
Richard Alles a Deputy Chief with the New York Fire Department said, "words can't describe the job and the relief in their lives right now."
They fought until the very end, coming with injuries, in wheel chairs, for those who couldn't be here themselves.
"I'm doing this for him. He would be here with us. This should be his win," Daniel Moynihan said.
He drove from New York to walk the halls one last time just hours before the vote, in honor of his friend, Ray Pfeifer. Ray was at every one of these rallies, but missed the final one.
He was admitted to the hospital just days before.
"I was told if you scream loud and long enough, people will start to listen and I think these last twelve years coming to today. I don't have to scream anymore," advocate John Feal said.
Feal has been here from the very beginning, fighting along side New York Senators Gillibrand and Chuck Schumer. He dedicated this day to Ray.
Although he is still angry at how much it took to get this through, he knows now his friend and many others can get the health care they deserve.
Their fight for coverage was finally over.