Beloved pandas leave DC after 50 years of panda diplomacy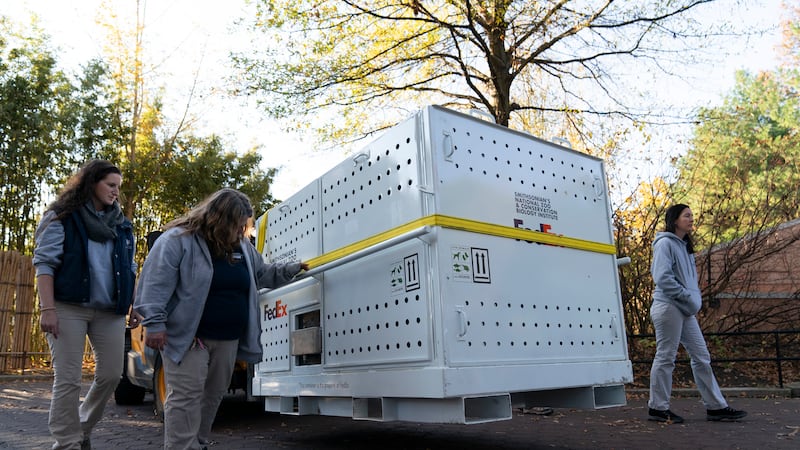 Published: Nov. 8, 2023 at 6:55 PM EST
WASHINGTON (Gray DC) - The National Zoo is panda-less as of Wednesday night, with three beloved giant pandas en route to China.
Xiao Qi Ji, Tian Tian and Mei Xiang boarded a one-way flight to China with more than 200 pounds of bamboo packed into their shipping containers. A caravan of FedEx trucks with a law enforcement escort drove from the zoo to Dulles International Airport, where a FedEx plane dubbed the "Panda Express" took off Wednesday afternoon.
Officially, the black and white bears were on loan from China. They're returning to their native country because the lease between the two countries wasn't renewed.
The departure comes at the end of more than 50 years of "panda diplomacy." The zoo said pandas have come to symbolize cross-cultural collaboration between the US and China.
The United States first welcomed Giant Pandas with open arms in 1972, when then first lady Pat Nixon predicted "I think panda-monioum is going to break out here at the zoo."
Panda-monium also happens to be the name the zoo used for its weeks long panda farewell party in October. Panda fans visited the zoo in droves over the last couple months to say goodby to the trio.
The zoo originally said the pandas would leave DC by November 15, but didn't announce the actual departure until just hours beforehand.
The last minute announcement left some zoo visitors disappointed on Wednesday.
"I'm really feeling sad," said Joyce Winterton, who arrived to the zoo Wednesday expecting to see the pandas one last time. "I was just hoping there was a last minute agreement so they could stay."
One zookeeper said the wellbeing of the pandas is top of mind, even if it's hard to say goodbye.
"This is something that I've been ready for," said zookeeper Brandie Smith. "Right now, we are so focused on making sure the pandas are returned to China happily and safely."
The last pandas in the United States are at the Atlanta Zoo and are set to return to China next year.
Copyright 2023 Gray DC. All rights reserved.