President, First Lady honor 'Teachers of the Year' at the White House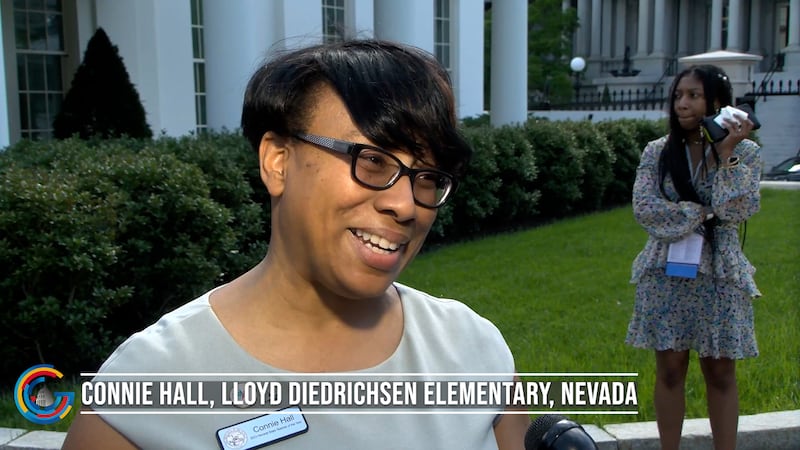 Published: Apr. 28, 2023 at 1:17 PM EDT
WASHINGTON (Gray DC) - The nation's top educators received a personal welcome from the President and First Lady Monday as they were dubbed 'teachers of the year.'
Learn how to nominated an educator for the Council of Chief State School Officers 'Teacher of the Year' program
In total, 55 educators were invited to take part in the ceremony at the White House. Each state and territory were represented. Dr. Jill Biden, who has been a long time educator, announced the winner of the 'national teacher of the year' title. That recognition went to Rebecka Peterson of Oklahoma, who teaches math at Union High School.
"It is such a tremendous honor to be recognized by a First Lady who champions the profession as one of us. You exhibit for the nation the dedication we all feel," said Peterson.
Other teachers described the moment as a one in a lifetime experience. Connie Hall, who teaches at Lloyd Diedrichsen Elementary in Nevada, even ran into one of her former students at the White House.
"One of my former students is the producer for President Biden and she found me and came over and said Mrs. Hall you're the reason that I believed that I could be here because of what you instilled in my classroom," Hall said.
The 2023 teachers are nominated, based on their ability to excel in the classroom. They acknowledge, challenges remain after the COVID-19 pandemic. Many of them noted schools need more resources, mental health support, and smaller class sizes.
President Joe Biden says the American Rescue Plan pumped federal dollars into struggling schools. He outlined other gals he wants to achieve this year.
"As I said in my State of the Union Address, let's give public school teachers a raise," he said to a round of cheers.
The administration also wants to increase school safety, stop the banning of books, and make college affordable.
"What we're finding is in many cases, we're fighting to make sure that students have the support that they need and the resources. We're fighting to keep politics out of the classroom. Let's focus on what our kids need," said Miguel Cardona, U.S. Secretary of Education.
House Republicans are currently considering government spending cuts as they debate the debt ceiling. Possible cuts to Department of Education programs have been part of that discussion.
Copyright 2023 Gray DC. All rights reserved.